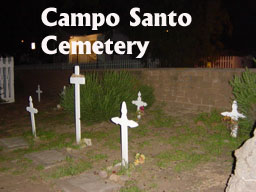 Ghost Stories | Our Review | Photographs | Official Site

Campo Santo Cemetery

El Campo Santo cemetery has a long and unfortunate history. After the rise of New San Diego and the decline of Old Town, the cemetery was no longer maintained. Just two years after the last body was buried there, a streetcar line was built through the cemetery over some existing graves. Preservationsists began their campaign in 1937 by restoring some of the gravemarkers and building a short wall around a small portion of the cemetery. At some point the streetcar line was converted into San Diego avenue, and paved over in the 1940s. The city was repeatedly petitioned to aknowlege that their were desecrated graves under the street. In 1993 the city sent a team with ground piercing radar to the sight and discovered at least 18 bodies buried beneath the street. The city first painted white crosses on the street to mark the graves, and eventually installed simple brass markers.
The most widely seen apparitions in El Campo Santo cemetery are an Indian or Hispanic man in 19th century clothing, and a woman also dressed in period. The man is said to float above the ground. Other times it is said that cars which are parked upon the graves have their alarms sometimes go on, even though no one is in sight of the vehicle.
We both found it sad, and a little creepy, that there are graves underneath the street in front of the cemetery. We did not, however, see anything supernatural in our night time tour of the quaint graveyard.

Previous Haunted Place | Haunted Places List | Next Haunted Place