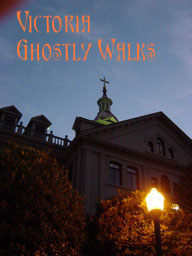 Ghost Stories | Our Review | Photographs | Official Site

About Victoria's Ghostly Walk with John Adams:

John Adams is a preeminent storyteller and historian in the Victoria Area (and all of the pacific northwest). He has been guiding Ghostly Walks in Victoria since 1970.
Since part of the point of the ghostly walks are the stoies, it would be a shame to ruin them by retelling them here. Suffice to say, they were good stories, and well told. There were numerous stories on our tour about the Empress Hotel, St. Anne's Academy, and the Helmcken House.
Kryis and I thouroughly enjoyed the whole experience. John Adams in an excellent storyteller. It does not matter if you believe in the supernatural or not. The pacing and tone of his voice add beautifully to the carefully constructed stories. There is no doubt that the tour was worth it, although we did not see any apparitions on our tour.


We went on the tour as part of our "Haunted Honeymoon" you can get more information by visiting our honeymoon page day 12.

Previous Haunted Place | Haunted Places List | Next Haunted Place