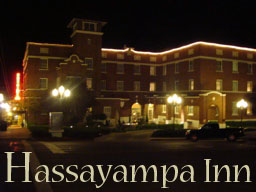 Ghost Stories | Our Review | Photographs | Official Site

About The Hassayampa Inn

The Hassayampa was built in 1927 as a luxury hotel in the town of Prescott Arizona. The hotel has been extensively modernized, but the lobby had a more traditonal feel. The name is a Yavapai indian word for "upside down river." The Hassayampa river is mostly subterranian.
The Hassayampa inn is said to be haunted by the ghost of Faith, a woman who killed herself in the hotel. Apparantly, Faith and her newlywed husband checked in to the hotel. Her husband left to go buy cigarettes and never returned. After three days of waiting for her husband to return, a distraught Faith hanged herself in her room. According to Jeffrey, an employee of the Hotel Vendome who had worked at the Hassayampa previously, a maid emplyed at the Hassayampa saw Faith and then quit. She had worked there for three years before the sighting. Dean, who was working in the lounge of the Hassayampa, told us that he will not sleep in room 426. That is faiths room. She supposedly will give foot massages to women, but gives men nightmares. Dean also told us that there is a six year old asian boy who haunts the laundry room and will tug on women's shirts. Another ghost of the Hassayampa is the "Nightwatchman," a man dressed in old western attire. He was spotted by Allison, the manager of the Peacock Room. He was described as having broad shoulders and wearing and old style brown overcoat.
While we did not actually stay in the hotel, we had breakfast in the peacock room and spoke to several employees both during breakfast and the night before. The food was good and the atmosphere of the hotel was nice.

Previous Haunted Place | Haunted Places List | Next Haunted Place