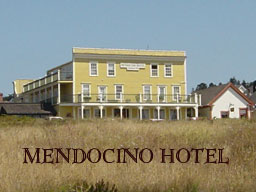 Ghost Stories | Our Review | Photographs | Official Site

About Mendocino Hotel:
The Mendocino Hotel and Garden Suites was started in 1878 as the Temperance House. It was later expanded when a second building was added on and a facade added to unite the two buildings from the front and renamed the Central Hotel. It is said that the hotel, at onetime, served as a brothel. The hotel is located in Mendocino's Historic District which is listed on the National Registry of Historic Places.
It is said that a Victorian era woman vistis tables 6 and 8 in the restaurant. The employees had a little to add about a friendly ghost upstairs that would move things in the bathrooms and turn the lights on and off. There are also certain rooms the main building that are supposed to have visitations.
Situated in the picturesque town of Mendocino, the hotel that shares its name is a throwback to an earlier era, as I suppose, most haunted places are. The whole main hotel has a victorian feel to it. The accomodations in the garden suites are nice, but not worth the money that we paid for it. Our complimentary breakfast (included in the special package that we bought) was very good on both of the days that we tried it. As a part of the package, we also had a complimentary wine tasting at the wineshop next door to the hotel. It was a nice town to get away from it all. There is no cell phone covereage in Mendocino, so you do not have to worry about that breaking the mood as you enjoy the shops and stores.


We stayed here as part of our "Haunted Honeymoon." You can learn more about our stay by checking out our honeymoon pages day 2, day 3, and day 4.

Previous Haunted Place | Haunted Places List | Next Haunted Place