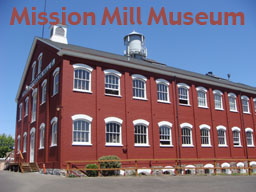 Ghost Stories | Our Review | Photographs | Official Site

About The Mission Mill Museum

The Mission Mill Museum is a collection of historic buildings from Salem's past, including houses, a church, and the mill itself. The museum celebrates two parts of Salem's past, the methodist missionaries that founded Salem, and the Thomas Kay Woolen Mill that operated in Salem from 1889 until 1962. In the wearhouse building where the self guided tour starts, there is a collection of small shops, a cafe called Tucker's at the Mill, a small museum, and a small theater that shows the pre-tour video. The fourth floor of the mill is home to the Textile Learning Center; there members of the Salem Fiberarts Guild operate the looms and answer questions about weaving from 10:00 to 2:00. They also have meetings on the premises and offer classes to those interested in textiles.
There are reports of a former employee of the Thomas Kay Woolen Mill named Wayne Menzter who still wanders the area, and the form of a woman who can be seen running across one of the bridges in the area. Wayne Mentzer was the millwright and, according to the story on the tour, used to leave food out for the mice that lived there. After the mill closed he kept all of the machinary and tools from the machine shop in his basement at home, upon his death his widow donated it all to the museum. When we entered the machine shop we were given a bit of a fright, because all of the machinary is set to turn on when someone enters the room and triggers a photocell. We quickly realized the true reason all the machines kicked on, but it did give us a fright for a second.
We discovered the Mission Mill Museum quite by accident. We got a little turned around while exploring Salem Oregon and came upon it. Recognizing that we had encountered the name while looking for haunted places in Oregon, we decided to stop in and take a look. The first place we stopped was the small restaurant/cafe, and we were greatly impressed by the quality of the food. The service at Tucker's at the Mill was restaurant style, meaning there was a wait staff, and the food was not fast food quality hamburgers and hot dogs but really nice sandwiches, pastas, salads, deserts, and a quiche of the day. The museum tour was self guided, first leading you to some out buildings from the mission that occupied the land and others from the same time period. We were then lead to the mill. Very clean and well laid out. We spent a good deal of time at the Textile Learning Center talking to the ladies who were weaving there. The cost of the tour was reasonable, and the food was excelent.

Previous Haunted Place | Haunted Places List | Next Haunted Place