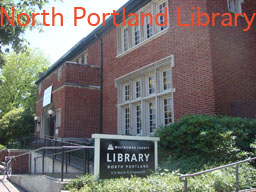 Ghost Stories | Our Review | Photographs | Official Site

About North Portland Library

The North Portland Library is a branch of the Multnomah county library system located in northern Portland. The building was constructed in 1913 and refurbished in 1999. In addition to the general collection the library houses the Black Resource Collection, a selection of materials relating to the black experience. The Library is close to the Portland Community College Cascade campus.
The second floor meeting room is said to be haunted. In the early nineties the figure of a man has been seen on the second floor on security cameras. According to one website on the subject, the second floor is closed and locked when it is not in use, but we were able to walk up there and look around without any hinderances.
We did not experience anything unusual in the library during our brief visit. The library seemed nice and clean, if not a little small compared to the branch libraries in our area, but it was bustling with much activity.

Previous Haunted Place | Haunted Places List | Next Haunted Place