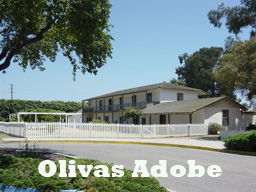 Ghost Stories | Our Review | Photographs | Official Site

About Olivas Adobe

Don Raymundo Olivas was granted 4,670 acres by the mexican governor of California in 1847. Don Raymundo Olivas named his ranch Rancho San Miguel and built a house on the property for his large family. This house was later expanded to be two stories, and is the structure seen today. Don Raymundo raised cattle on the land and profited greatly from the gold rush. Don Raymundo died in 1879 and his land was parceled off to his heirs. The house was sold outside the family in 1899 but some portion of the Rancho remained in family hands until 1968. The adobe was purchased and restored by Max Fleischman in 1927 and gifted to the city of Ventura upon his death and opened as a museum in 1972.
Ghost Stories




The most famous supernatural inhabitant of the Olivas Adobe is the Woman in Black. She has been seen wandering the grounds and passing from room to room at all times of day by numerous people. The most common theory as to her identity is that of Teodora Olivas, Don Raymundo's wife.
A man's face has been seen looking in to a second story bedroom window. The window is to the room known as the "children's room." The face is said to resemble that of Nicolas Olivas, Don Raymundo's eldest son. The Lady in Black has been seen looking out of the window onto the courtyard below.
Our Review


Unfortunately the Adobe was closed when we stopped by to visit, so we were unable to conduct a throurough investigation and review of the site.