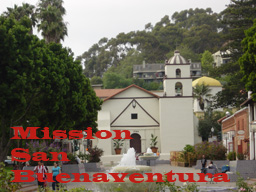 Ghost Stories | Our Review | Photographs | Official Site

About Mission San Buenaventura

Mission San Buenaventura was founded on Easter Sunday in 1782 by Father Junipero Serra; the last mission founded by the famous monk. The current chapel was built between 1793 and 1809 after the previous church was destroyed by a fire. In 1893 the interior of the church was remodeled and updated to a more contemporary style, and the original artwork and murals were painted over. It was restored to a more traditional mission style in 1957. It still operates as a parish church to this day. All that remains of the mission are the chapel and a small garden. Also on the site is a Catholic School and a small museum and giftshop. It is on the National Register of Historic Places and is a California Historic Landmark.
Ghost Stories


A ghostly monk is said to appear wandering through the chapel and grounds. In some reports, the monk will only appear to catholics.
Our Review



It is fair in comparisson to the other California Missions that we have visited. The chapel is still a functioning catholic church, and the grounds are beautiful. Most of the mission complex beside the chapel and the courtyard has been razed, which is unfortunate.