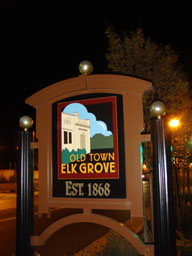 Ghost Stories | Our Review | Photographs | Official Site

About Downtown Elk Grove

Elk Grove is a city south of Sacramento California that experienced rapid development during the housing boom. large sections of Elk Grove stand in mid development, as large expanses of land designated for future housing development has been halted due to the downturn in the housing market. The city was founded in 1868 (as you can probably see from the sign in the photograph above) as a stage coach stop, and functions today mostly as a bedroom community for nearby Sacramento although there is still a strong agricultural presence.
Ghost Stories


The old downtown area of Elk Grove is said to be visited by the ghost who haunts Elk Grove Boulevard and the railroad tracks that bisect the area. It is said people see a ghostly woman wearing white, but when people turn to see her face there is nothing there but a black void. This figure has been seen walking off along the railroad tracks and then disappearing. We could find no one who could comment on or elaborate about this haunting.
Our Review


Elk Grove is a nice looking city that despite its age has only recently been majorly developed. The "historic" Old Downtown Elk Grove is a reminder of the city's past. Quiet and undeveloped, there is not much of a business presence in the area, and the only activity we saw, supernatural or otherwise, was from the local bar. There is not much to see or do in Elk Grove for visitors unless you wish to visit every location of every restaurant chain, of which Elk Grove seems to have a near complete collection.