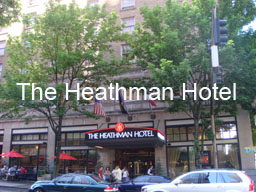 Ghost Stories | Our Review | Photographs | Official Site

About The Heathman Hotel

The Heathman Hotel was originally opened in late 1927 as the New Heathman Hotel by George Heathman Jr. The hotel was the centerpiece of Portland's entertainment district. When residents moved from the city center to the suburbs following World War II, Portland's Great White Way went into decline. Bouyed by the construction of the nearby Portland Center for the Performing arts and the revitalized former Portland Theater, now known as the Arlene Schnitzer Concert Hall, the hotel underwent a $16 million renovation in the middle 80s. The building has come full circle; once again becoming a modern presitigious hotel in the midst of Portland's bustling entertainment mecca.
When the hotel was modernized, it was truly modernized. Contemporary design and modern artwork was incorporated into the buildings historic facade.
The Heathman is said to be haunted by the ghost of someone who committed suicide by jumping out of room 1003. While the concentration of ghostly activity is said to come from room 703, all of the rooms that the person past on their way down are said to be haunted. Some of the manifestations include: cleans towels being used when no one was in the room, full glasses of water becoming empty, and desks and chairs being moved.
While we did not stay or eat at the Heathman during our visit, we did explore it and listened to the live music, we did not enjoy it as the Benson Hotel down the street. The lobby felt closed in, and while we do enjoy elements of modern design, the lobby felt sterile and uninviting.

Previous Haunted Place | Haunted Places List | Next Haunted Place