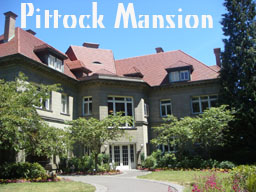 Ghost Stories | Our Review | Photographs | Official Site

About The Pittock Mansion

The Pittock Mansion was built as the private residence of Henry Pittock, and early resident of Portland and owner of The Oregonian newspaper, and his wife Georgiana. The 20 rooms mansion is located in the hills overlooking Portland. Although Henry Pittock only occupied the house for a few years, the decedants of the Pittock family remained in the house until 1958. Because the building was extensively damaged in a 1962 storm, the family considered demolishing the building. Local residents raised over $75,000 dollars to help buy the property. In 1964 the city of Portland, recogizing the significance of the landmark, purchased the estate for $225,000. After eighteen months of restoration, the mansion and grounds were opened to the public.
There are only a few reports we came across mentioning the house as being haunted by the ghosts of Henry and Georgiana Pittock. They are both said to have been seen by guests and employees alike, although we did not get any confirmation of this from the employees that we interviewed.
A beautiful example of the many mansions and estates formerly owned by a prominent member of the local communities past. The building was gorgeous, and we definately recomend that anyone visiting Portland take some time to check out this local treasure.

Previous Haunted Place | Haunted Places List | Next Haunted Place