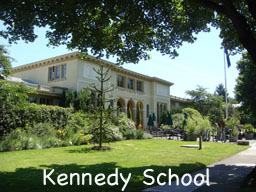 Ghost Stories | Our Review | Photographs | Official Site

About Kennedy School

McMenamins Kennedy School is a former elementary school in northeast Portland. The school was originally opened in 1915 and closed in 1975. Refurbished and converted into a hotel and restaurant by the McMenamins as part of their extensive empire of converted old historic buildings fused with extensive paintings and murals, historical photographs, and relics of the buildings former life. The walls and doors are decorated with images giving tribute to the education that thousands of students received in the schools rich history. There is a restaurant, a movie theater, and a soaking pool.
There are reports of a ghost haunting a women's restroom on the premises, and the story of a suicide in one of the classrooms. While we found references to its being haunted from several sources, all of the explanations are vague, and none of them were even slightly confirmed by any employees that we talked to. We are glad we checked the place out, but disappointed that we did not get anything more interesting as a result.
We did not get an opportunity to stay at this hotel on this trip, but we did wander the halls and eat in the restaurant. The menu in the restaurant was more extensive than typical McMenamins pub fair, but not as upscale as you would find in their restaurants like the Black Rabbit Restaurant at Edgefield.

Previous Haunted Place | Haunted Places List | Next Haunted Place