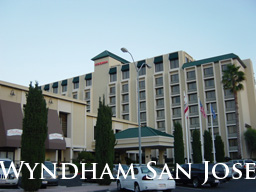 Ghost Stories | Our Review | Photographs | Official Site

About the Wyndham San Jose Airport

Formerly the La Baron Hotel, the Wyndham San Jose Airpport is a hotel in north San Jose. The decor, seemingly stuck in the 70s, eerily reminded me of the "Overlook Hotel" from Stanley Kubrick's 1980 version of The Shining starring Jack Nicholson and Shelly Duvall.
Ghost Stories



The Wyndham is haunted by a businessman who is said to have commited suicide in room 538. He is said to appear in hallways on the 4th, 5th, and 6th floors, in room 538, and in the dining room. Cold spots and orbs have also been reported..
Our Review




We have never actually stayed in the hotel, or in room 538. On our only visit we walked through the hallways near the haunted room in hopes of seeing a manifestation. The hotel looked nice enough even if its decor was a little dated.

Previous Haunted Place | Haunted Places List | Next Haunted Place