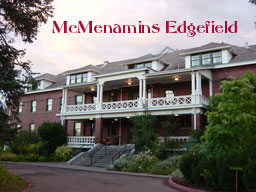 Ghost Stories | Our Review | Photographs | Official Site

About McMenamins Edgefield
Originally Built in 1911 to function as the Multnomah County Poor Farm. Residents ran a self-sufficient community, with a farm, laundry, kitchen, and hospital wing. In 1962 it was renamed Edgefield Manor and operated as a nursing home until 1982 when it was closed. In 1990 the McMenamin brothers bought the property and slowly began renovating and restoring the buildings and grounds. McMenamins Edgefield now has a Winery, Distillery, Brewery, Pub, Golf Course, Restaurant, Banquet Facilities, and European style lodgings. Murals and artwork by local artists adorn the walls, doors, and even the pipes. There is something new to see or do around every corner.
There are two places at Edgefield that are supposed to contain ghosts. In the old hospital wing over what is now the winery, people are suddenly come over with sadness, and a nurse has been seen wandering the halls. In the administrator's a young girl (said to be the old administrator's daughter who died young) has been seen wandering, guests have had their ankles held in the middle of the night, and a black man in tattered clothing has been seen.
Accomodations: The decor is a contradiction. Very sparse rooms. Ours had a fairly hard bed, a desk & a sink. We had to share a bathroom. (which based on the information for the 2 other McMenamin's hotels nearby, is pretty par for the course.) However, there is very little wall space that is not painted with some fantastical scene, or of a person who used to live at the poor farm. So in that sense, there is an abundace of style.

If you like spirits of the liquid kind, this is the place to come. There are at least 7 places to drink.

The Black Rabbit is the in-house restauraunt. If you look up at the sprinkler pipes there, you can see the figurine of a little boy trying to feed a black rabbit a carrot.

The food is good, the artwork is phenomenal, but we missed having a private bathroom.


We stayed here are part of our "Haunted Honeymoon." You can get more information about our stay on our honeymoon pages day 6 and day 7.