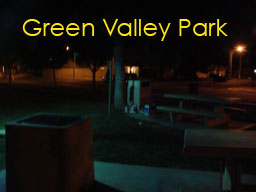 Ghost Stories | Our Review | Photographs | Official Site

About Green Valley Park

Green Valley Park is a small neighborhood park in Henderson, Nevada. There are a lot of amenities here for such a small park. The park has a baseball diamond, basketball courts, a playground, bathrooms, and even horseshoe pitches. We came to this park as part of the Haunted Vegas Tour.
Ghost Stories



According to the tour, two boys were found murdered in the park some time in the 70's. They had very little information about the other

that they were brothers, and that the court records surrounding the case had been sealed. Regardless, strange things have happened in the park near the picnic tables and barbacue at the corner of Pecos Rd. and Milcroft Dr. There is even a photograph on the tour's website of possbile paranormal activity. Our most compelling photograph was taken at the site as well. You can see that on the photos page or our Ghostly Images? page.
There was also a

story of another body of a 29 year old whose ghost haunts the park. The tour guide told us his body was discovered in the park, and that there was a tree and a plaque memorializing him in the park. We went back the following day and found a plaque dedicated to a man, Christopher D. Brown, who was 29 at the time of his death, but after investigating his death found that he was killed while trying to cross interstate 15, and not murdered. Here is a link to a news article detailing

the events surrounding the death of Christopher Brown of Henderson Nevada. We did not investigate further, so there could be another plaque in the park that would help confirm the story told on the tour.
The Las Vegas Paranormal Investigations group has investigated the park three times between 2004 and 2006 and concluded that it is not haunted according to their website.
Our Review




He Says:
My wife took what I would consider our first picture of something odd that could not easily be explained away as a mundane occurance while in this park as part of the Haunted Vegas Tour. It is featured on our Ghostly Images? page and included on the photo page here. I am naturally skeptical of the supernatural, and even this picture gives me pause. I cannot find a rational explanation for it.
She Says:
After shooting shot after shot of Orbs (possibly some pollen or dirt, it was rather windy) in Green Valley Park, I really hadn't expected much for
the night. I didn't even see the blurry figure in the photo in the camera screen when I clicked yet another picture of expected orbs. It is strange how he is blurred out and slightly see thru when other things infront of and behind him are in sharper focus... I feel like I missed out on something, not seeing it with my own eyes!.

Previous Haunted Place | Haunted Places List | Next Haunted Place